Dear Parents and Caregivers
It was lovely to see all the children looking incredibly smart in their school uniform on Monday morning. This was particularly evident with the year 6 children. It was a welcome return to normality (of some description) for the last part of the summer term. Thank you to everyone who supports this.
We thought that it would be pertinent to share with you a reminder of the Elmhurst uniform policy:
SCHOOL UNIFORM
It is the school policy that pupils come to school each day wearing a school uniform, detailed below. Please support this policy and save the embarrassment of us having to speak to you or your child.
• Navy blue sweatshirt or cardigan with logo, or pullover.
• Shirt/blouse of white, blue or grey
• White or navy polo shirts with school logo.
• Elmhurst T-shirts are either blue on white or white on blue.
• Blue and white check dress.
• Skirts in grey, navy or black.
• Polyester type tailored trousers (for boys and girls) colour black, grey or navy: Jeans, tracksuits or jogging bottoms, corduroy or chino type materials are not acceptable.
• Short trousers may be worn in warmer weather
• Socks in white, grey or navy.
• Black shoes: flat or with a low heel or robust sandals in the summer. Trainers or canvas shoes are not acceptable (see note below)
It is advised that hair longer than shoulder length is tied up. Earrings and jewellery (other than stud earrings) are not acceptable.
As we have said previously, we do not expect any family to buy a new uniform at this point – we have lots of pre-loved bits and pieces to pass on. Please contact us if we can help. We also understand that new shoes are not a high priority until the start of the new school year but please make sure the children are wearing dark coloured footwear.
Thank you,
Tracy and Mike
---
Website posts you may have missed:
Attendance at Elmhurst – w/c 24th May 2021
Whole school – 97.2%
Year 3 – 97.4%
Year 4 – 99.3% – an excellent end to the term!
Year 5 – 95.2%
Year 6 – 96.9%

Fir class & Holly class are 100 % for the week as well. Well done!
UPDATE re class photos
Fran Buxton will be coming into school on Monday and Tuesday next week to take class photos for the end of the year. The photos will take place outside so will be weather dependant.
All children need to be in school uniform for the two days. Photos for classes that have PE have been timetabled so that they will not take place on the same day. Children can, therefore, come dressed for games.
Photos will be available for order direct from Fran – details will follow next week.
Farewell to Di
Just before half term, we said farewell to Di Burroughs who has worked at the school for many years. Di made the decision to retire and whilst we will miss her hugely, we do realise that when it is time to go, it is time to go! Enjoy your retirement, Di!
Behaviour at Elmhurst
We had a long chat with the Year 6 children on Monday morning. The vast majority of the year group know how to behave and do so incredibly well – they are a credit to the school. Unfortunately, though, there is a small minority who have, in the past, let themselves down.
This term is about a fresh start for all; the last term at Elmhurst before transitioning to secondary schools and the expectations that this will bring. This is a chance for some children to reinvent themselves and become the people we know they can be. We have been very firm, though, and explained that they have had all the chances they are going to have. We need to see a change.
The following behaviours, both in and out of school, are not acceptable and will result in either a fixed-term or permanent exclusion, in line with the the behaviour policy. Exclusions will be issued at the Head's discretion.
Unacceptable behaviours include, but are not limited to:
Swearing – either physical or verbal
Phyiscal aggression to another pupil or adult
Disrespectful behaviour such as choosing to leave the classroom without permission, disengaging from learning, answering back etc.
Any child who receives a fixed term exclusion will not be invited to the end-of-year campfire. We want the children in year 6 to be able to enjoy their last term at Elmhurst, and planned activities, without other children spoiling it for them.
We know that they can do it but we also know they will need our support and constant reminders – please help with this!
On a side note, but linked, you may have heard in the news recently that the English cricketer, Ollie Robinson, has been suspended for tweets he posted ten years ago when he was 18. The children need to know that any messages they post online WILL come back at them in the future. This is a really good opportunity to talk to your children about online behaviour.
RSE Day – Thursday 24th June
RSE Day is a national celebration of excellent education around healthy relationships and positive sexual health for educational settings, families and organisations. It is held on the last Thursday in June each year and allows the opportunity to share successes and good practice, hold events and encourage everyone to see RSE as their responsibility. The theme for RSE Day 2021 is 'Faces'.
To celebrate RSE Day this year, we are hosting a family bake off (please see the poster for further details). We will also be creating class 'family trees' on the school site. If your child would like to take part in this, they need to bring in or send via Class Dojo a rainproof (!) photo of their family which will then be hung on a tree at the back of the school. Thank you in advance for your support.
RSE information for parents
Reading at Elmhurst
We expect all children to read at least four times a week to an adult.
Congratulations to Oak and Yew classes who achieved 100% in their reading target. Well done. Who will join them next time?
Please support your child by reading with them at home.
Summer Reading challenge
You may also like to get involved in the Library Wild World Heroes challenge. More details can be found here:
https://summerreadingchallenge.org.uk/
WAP – a reminder
In line with the easing of lockdown regulations and staff availability, we have extended the opening of the after-school provision until 5.30 pm for the rest of the term. This will be reviewed again ready for the Autumn term.
The revised prices are as follows:
Part hourly session from 3- 4:30 pm £4.50
Full session 3-5:30 pm £7.50
Collection after 4.30 and before 5.30, will be charged at the full session price.
Parents are still asked to provide their own snack at this point.
Unfortunately, we are not, as yet, able to increase numbers significantly and open WAP up to everyone but we do have some limited capacity for a few more children. We are able to increase provision for years 3/4 to 15 due to the size of the room and to 10 for years 5/6. Hopefully, with the improved weather, we will be able to get the children outside as much as possible!
Please contact Abbie Laffan directly to discuss any possible bookings if needed.
Abbie can be contacted via email: Alaffan@ejsch.co.uk or via the office phone number between 10 – 12.30 am on Monday mornings or 12.30- 3 pm on Friday afternoons.
BBC BEE competition
The Big Bee Challenge is Radio 2's brand new competition for kids, in partnership with the Royal Horticultural Society.
It's a fun and creative way to learn more about bees and other insects that help provide much of the food we eat and are essential for a healthy environment.
If you are between the ages of 6 and 12, we want you to design a bright, buzzy garden that will attract bees and other pollinating insects. The winner's design will be built by the RHS at an NHS Trust site which is used by children and young people with mental health needs.
More details may be found here: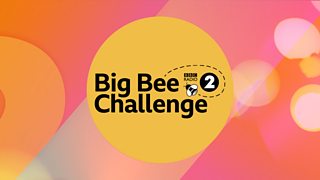 You may want to read Mrs Chard's gardening blog to give you some ideas!
Cricket
Well done to all the children who particaipated in the Primary Schools Cricket Olympics. We placed 15th overall.
A reminder:
We would ask all parents and visitors to show extra caution when driving in the vicinity of the school. The car park is not for general use and extreme caution should be shown when using it.
On Monday, I witnessed a car pull into the car park entrance, drop a child off and then try to reverse out of the car park as the children were coming in. Unfortunately, I didn't get the registration number!
We also received a concern from a parent who witnessed a black Mondeo speeding along with a white van on Monday after school. A child was nearly knocked over.
And finally...
Work from the week:
In a change to the gallery work, we will now be including examples of work in the weekly newsletter. Here are some of the things we have being doing at Elmhurst this week.